Dental Cleanings and Checkups Near You
Maintaining proper dental hygiene practices is the best way to ensure that your teeth remain strong and healthy. Good oral hygiene helps to protect your teeth from decay, cavities, and gum disease. While brushing and flossing are a major part of dental hygiene, visiting your dentist for professional dental cleanings and checkups in Burnaby is also necessary.
What Do Dental Checkups and Cleanings Involve?
When you come into Eagle Creek Dental Centre for a professional dental cleaning and checkup, your appointment will begin with one of our experienced dental hygienists cleaning and polishing your teeth. This is also when the hygienist will check for any signs of gum disease or tooth decay. Your cleaning will include:
Scaling:  Our dental hygienist will use a dental scaler to remove any built-up plaque and tartar on your teeth, including between each tooth and below your gum line.
Polishing: Once all the plaque and tartar have been removed, our hygienist will use a special tool to remove any leftover debris and polish your teeth.
Fluoride Treatment: Finally, our dental hygienist will provide you with a fluoride treatment to strengthen your tooth enamel and lower your risk of developing future cavities.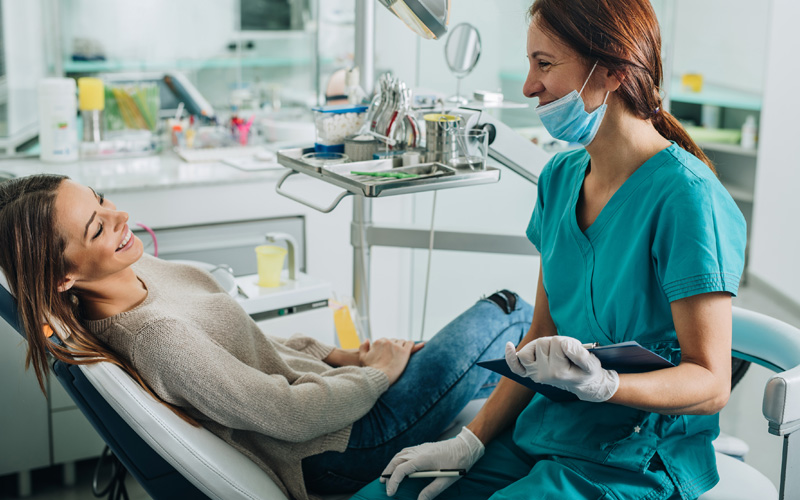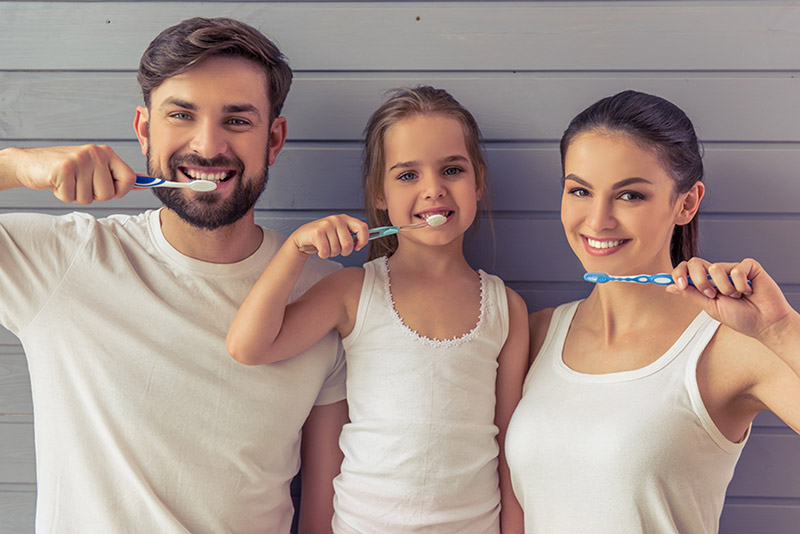 Once the cleaning is finished, our dentist in Burnaby will examine your mouth to gain an understanding of your current oral health, including:
A screening of your entire mouth, including your teeth and gums
Digital x-rays
An examination of your head, neck, and jaws
An oral cancer screening
You should visit Eagle Creek Dental Centre at least once every six months for a dental cleaning and checkup to ensure optimal oral health.
What Are the Benefits of Attending Regular Dental Cleanings and Checkups?
When you choose to attend regular professional dental cleanings and checkups, you can benefit from:
A brighter smile
Prevention of gum disease
Prevention of tooth loss
Early detection of serious diseases such as diabetes or heart disease
Fresher breath
How to Maintain Oral Health at Home
It is vital to consistently visit the dentist for professional dental cleanings, but in the interim, there a few habits you should be following at home to maintain optimal oral health:
Brush for at least two minutes twice a day
Floss once daily
Use proper brushing techniques
Choose a toothpaste with fluoride
Keep your intake of sugary foods to a minimum
Interested in Dental Cleanings and Checkups Near You?
We are delighted to offer professional cleanings and checkups in Burnaby to all of our patients. We believe that preventative dentistry is crucial to maintaining your dental health, which is why we recommend regular appointments to catch any issues before they become bigger problems. So why not give us a call today to book your appointment? We would love to help you keep your smile bright and healthy!